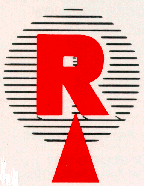 RED POINT VPI SYSTEMS
---
VPI And VI Systems
"Epoxylite VPI Systems- Often Imitated-Never Duplicated"
Epoxylite is the only full service source for Vacuum
Impregnation equipment, resin, and related process equipment.

Vacuum Pressure Impregnation (VPI) systems
The Epoxylite Corporation engineers and fabricates a complete line of vacuum impregnation equipment. Our Vacuum Pressure impregnation (VPI) and Vacuum Impregnation (VI) Systems are the most effective method of achieving thorough and complete impregnation of windings. The equipment uses vacuum and pressure for force air, moisture, and volatiles from windings to allow the liquid resins to penetrate the coil and fill voids completely.Only Epoxylite can offer a complete package of Vacuum Pressure Equipment, Resin Systems, and related process equipment customized to suit your specific application.
EPOXYLITE VACUUM PRESSURE IMPREGNATION SYSTEMS PROVIDE 100% PENETRATION OF RESIN LEADING TO VOID FREE FINSIHED STATORS WHICH SATISFY THE REQUIREMENTS OF IEEE SPECIFICATIONS FOR SEALED SYSTEMS.
VPI System Options

RS 2100
High Capacity Vacuum Pump
"Y" Strainer for transfer line
System Automation
Storage Vessel Level Sensor
Insert Liner
Shaft Well
Flat False Bottom
Model
3'X3' Econo Pak
4'X4' Econo Pak
5'X5' Econo Pak
6'X6'
7'X7'
8'X8'
9'X9'
10'X10'
12'X12'
Reservoir Assembly
(Diameter x Depth)
3'X3'
4'X4'
5'X5'
6'X6'
7'X7'
8'X8'
9'X9'
10'X10'
12'X12'
Storage Capacity
(Gallons)
166
385
635
1000
1800
2500
3400
4600
8400
Chiller assembly
.33 ton
.5 ton
1 ton
2 ton
2.5 ton
3 ton
4 ton
5 ton
8 ton
Transfer Line
(diameter in inches)
2
3
3
3
3
4
4
6
8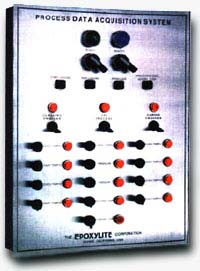 RS 2100 Data Acquisition Systems
Epoxylite RS 2100 Data Acquistion
Optional with VI or VPI Equipment
Optional Oven Process and Part Temperature Data available for Bayco cleaning and Curing ovens.
Features:

Data Recorded during process

Resin Temperature
Part Temperature
Vacuum
Pressure
Capacitance

Benifits:

Total Quality Assurance
Printout of Process
Capacitance Recording
Insures Quality of Impregnation and Complete Fill of Coil
100% Impregnation
Improves Record Keeping
Job File Storage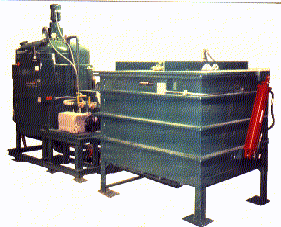 Epoxylite 48" x 60" x 42" Vacuum Impregnation System
Epoxylite Vacuum Impregnation Systems provide 100% penetration of resin and void free finished transformers and coils.
Features include:
Easy operaation and maintenance.

Uses minimal floor space.

State of the art vacuum system

Shipped complete and pre-tested.

Chiller and Agitator standard.

Suitable for use with both filled and unfilled varnishes.

Custom sizes and options available.
---
---
If you want more information, contact us by e-mail at sales@iec-international.com
---

EPOXYLITE ® is Epoxylite Inc. U.S.A. trade mark.
© IEC 1996-2000